StarTech job cuts sign of 'belt-tightening' in London's tech sector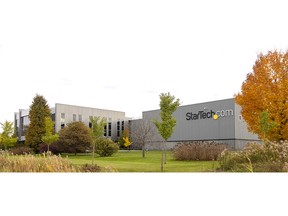 London technology darling StarTech.com has cut its workforce as a shakeout in the tech sector that has seen industry giants shed jobs filters down to Southwestern Ontario.
Article content
London technology darling StarTech.com has cut its workforce as a shakeout in the tech sector that has seen industry giants shed jobs filters down to Southwestern Ontario.
StarTech cut 10 staff this week after eliminating more than 30 in January, said former staff at the business on Artisans Crescent, off Oxford Street and Veterans Memorial Parkway.
Article content
"As part of an organizational realignment, we eliminated some positions, which is never an easy decision to make. We believe these changes will allow us to better support our customers and drive future growth," Andrew Stephen, manager of communications for StarTech, said in a statement.
Article content
He declined comment on how many positions were eliminated.
"All organizational changes are made with the goal of continuing the long track record of success that StarTech.com has enjoyed."
Former workers at StarTech cited increased competition in the sector and the impact of higher tariffs on goods sold into Asian markets as reasons for the slump.
StarTech did cut positions in 2020 as it braced for the COVID-19 pandemic and was uncertain what the impact would be, Stephen said.
"The entire industry has had some challenging quarters and as a company that specializes in (technology) accessories, we're not immune to that but are cautiously optimistic that things will improve during the coming year," he said.
In 2019, StarTech employed more than 400 in London.
But tech businesses in Southwestern Ontario also are mirroring a global trend of businesses "levelling out" staffing after sales boomed during the COVID pandemic and have now cooled.
"I have certainly seen a shift post-COVID as tech companies adjust to the current environment," said Brian Foster, co-founder of the RH Accelerator that grows tech companies in London.
Article content
"Revenue drops can have a big impact. Generally speaking, staffing is the first cut. Tech salaries also skyrocketed during COVID, which puts significant pressure on the company."
Other factors such as inflation, high interest rates and even the growing use of artificial intelligence have played a role, Foster said.
"I have seen adjustments in staffing levels based on AI tools now being used rather than hiring or keeping existing staff. I would concur that this is more of a levelling, post-COVID, than an overall reduction."
The London employment website Londontechjobs.ca has more than 300 open positions, while in 2021 it posted more than 400 job openings.
The area employment agency Elgin Middlesex Oxford Workforce Planning and Development Board reported a drop in employment of about 300 people in the information, culture and recreation sector in September compared to August for the region.
"It might be possible that the employment in the subsector (information, culture and recreation) will stop growing for a while and remain somewhat flat," said Emilian Siman, director of the development board.
Article content
"Inflation and inflation control (high interest rates) will reduce employment in the end. Labour is getting expensive and will (require) businesses to look at ways to contain this cost of production."
But the Statistics Canada figures are for a broad section of employment, not just technology, he said.
"This makes it difficult to point with precision that this September loss in employment in the subsector is due to employment contraction in IT businesses," he said.
The Financial Post reported there have been 343,000 layoffs in the tech industry this year in the U.S., well ahead of the 243,000 for all of last year.
London tech entrepreneur Derrick Berney, who owns several software businesses including Cannabis Wiki and Mien Tzu, senses a "scaling down" in the sector.
"It's declining now, it is levelling out because it exploded so much in COVID," he said.
"All those people set up home offices. They needed USB hubs, monitors, keyboards. There was a boom and now there's belt-tightening."
StarTech.com was founded in London in 1985 by Ken Kalopsis and Paul Seed. Kalopsis retired in 2016 and Seed remains chief executive.
Article content
StarTech.com provides the cables and connections for IT including laptop docking stations, audio-visual products, hard drive accessories, and networking products. It has offices in 20 countries on five continents.
Last year, StarTech announced a $1.5 -million sponsorship deal with the YMCA of Southwestern Ontario that gave it naming rights for the Bostwick Community Centre on Southdale Road. The facility that contains a YMCA, London Public Library branch, two ice rinks and community rooms is now called the StarTech.com Community Centre, YMCA, and Library.
The company also announced $2 million in cumulative donations to United Way Elgin Middlesex in 2022, Stephen said.
Seed maintains a home in Longboat Key, Fla., and recently gave $10 million to the Sarasota Performing Arts Center.
StarTech maintains its head office in London.