Live news: Trending business stories for September 25, 2023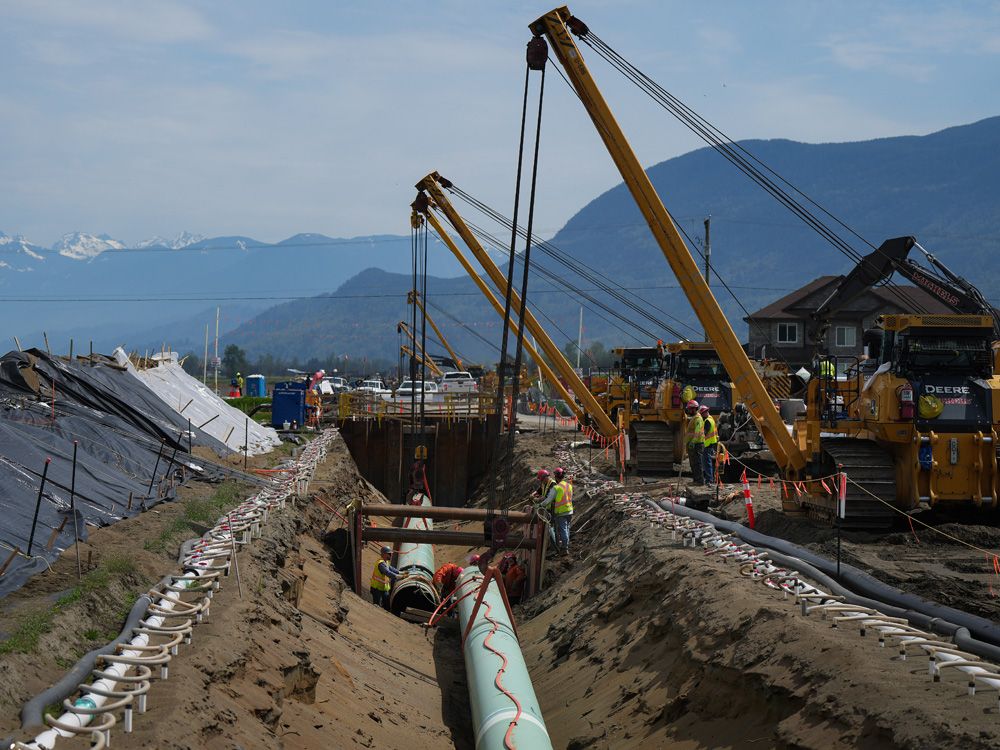 The latest business news as it happens
Article content
Today's top stories
Article content
---
5:15 p.m.
Pepsi and Coca-Cola absent in meeting with federal industry minister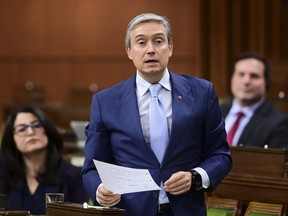 Canada's industry minister made a point of calling out Pepsi and Coca-Cola for not sending representatives to a meeting he convened on Monday with manufacturing companies to discuss stabilizing grocery prices.
François-Philippe Champagne singled out the two companies when asked by a journalist what the consequences would be if major industry players did not succeed in stopping high inflation.
"This morning, (their CEOs) did not attend the meeting," Champagne said of beverage giants Pepsi and Coca-Cola.
"I intend to call on them and I will continue to do so. … I don't stop," he told reporters.
The Canadian leaders of seven international manufacturing companies, including Nestle and Kraft Heinz, met with Champagne.
He summoned them to answer to Prime Minister Justin Trudeau's call earlier this month for Canadian grocers to come up with a plan to stabilize prices by Thanksgiving.
If major grocers fail to deliver ideas, Champagne said, "the consequence is for all 40 million Canadians because we will be able to see who is taking action and who is not."
Article content
A government source told The Canadian Press that the chief executives of Pepsi and Coca-Cola responded to the federal government summons by stating they were not available Monday. The source was granted anonymity because they were not allowed to speak publicly about the matter.
It's unclear, however, whether another meeting between major food companies and the government will take place.
Monday's meeting brought together top Canadian executives from McCain, Unilever, Nestle, Lactalis, Lassonde, Kraft Heinz, and Smucker Foods.
All avoided speaking with journalists. The CEO of the Food, Health & Consumer Products of Canada association, Michael Graydon, attended the meeting and agreed to answer questions on their behalf.
Graydon called the meeting "very productive."
"We're very much about co-operation and support, collaboration," he said. "It's an industry that needs to align and work collectively to find a solution."
He said manufacturers want to collaborate with other players in the supply chain, such as major retailers like Loblaw and Costco, whose leaders Champagne met with one week earlier.
Article content
Trudeau has said that if the government isn't satisfied with what major grocers come up with to stabilize prices, he would intervene, including with tax measures.
Graydon said it remains to be seen how detailed the plans will be by the government's Thanksgiving deadline.
"We'll have to see whether, you know, the detail of how much completeness can be done by that time. But I think everybody's working very hard to achieve that," Graydon said.
Champagne said he is happy Graydon "wants to do something," because "it's a gain for Canadians."
"It's clear that what's important is that we have timelines, work plans, and obviously concrete actions," the minister said.
The Canadian Press
---
4:50 p.m.
Regulator rules in favour of Trans Mountain route deviation
The Canada Energy Regulator has approved Trans Mountain Corp.'s application to modify the pipeline's route.
The Crown corporation that owns the pipeline project had requested permission to alter the route slightly for a 1.3-kilometre stretch of pipe in the Jacko Lake area near Kamloops, as well as the construction method for that section.
Article content
Trans Mountain Corp. said it had run into engineering difficulties in the area related to the construction of a tunnel.
But Trans Mountain's application was opposed by the Stk'emlupsemc te Secwepemc Nation, whose traditional territory the pipeline crosses and who had only agreed to the originally proposed route.
Trans Mountain Corp. had said if its route deviation request was denied, it could result in a nine-month delay and $86 million more to the pipeline's final price tag.
The regulator said it would release the reasons for its decision in the coming weeks.
The Canadian Press
---
4:33 p.m.
Market close: Energy stocks help lift TSX, U.S. stock markets also up
Strength in energy stocks helped Canada's main stock index close slightly higher, while U.S. stock markets also ended up to start the week.
The S&P/TSX composite index closed up 20.64 points at 19,800.61.
In New York, the Dow Jones industrial average ended up 43.04 points at 34,006.88. The S&P 500 index was up 17.38 points at 4,337.44, while the Nasdaq composite was up 59.51 points at 13,271.32.
The Canadian Press
Article content
---
2:39 p.m.
Unifor-GM auto talks set to begin Sept. 26 following historic Ford deal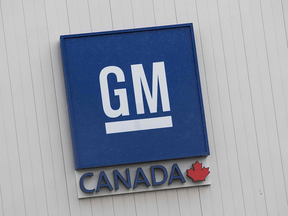 Canada's largest private sector union says it will turn to negotiations with General Motors Co. after members voted to accept its labour agreement with Ford Motor Co. of Canada.
Unifor says the talks will begin Sept. 26.
Workers at Ford voted 54 per cent in favour of a new three-year collective agreement over the weekend. The ratification stands in sharp contrast to the 81 per cent support their previous contract received.
The narrow vote of support by Unifor members for the proposed contract with Ford has experts saying that reaching deals with General Motors and Stellantis could prove more challenging.
The union has said the Ford deal will set the pattern for contract talks at GM and Stellantis, but Steven Tufts, a labour expert at York University, said the relatively low support raises the question of whether workers will accept the template.
Unifor's negotiations with GM cover approximately 4,300 workers at the St. Catharines Powertrain Plant, Oshawa Assembly Complex and Woodstock Parts Distribution Centre.

The Canadian Press
Article content
Read more: 4 of the most notable labour actions in Canada this year
---
2:26 p.m.
Oil could hit $150, shale CEO says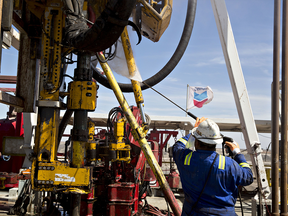 Oil is headed as high as US$150 a barrel unless the U.S. government does more to encourage exploration, according to Continental Resources, the shale driller controlled by billionaire Harold Hamm.
Crude output in the Permian Basin will one day peak as it already has in rival shale regions such as the Bakken region of North Dakota and the Eagle Ford in Texas, Continental chief executive officer Doug Lawler said during an interview with Bloomberg TV. Without new production, "you're going to see $120 to $150" oil, he said.
"That's going to send a shock through the system," he said. Without policies encouraging new drilling, "you're going to see more pressure on price."
Even if oil breaches the US$100 mark, Continental has no plans for a burst of output, Lawler said. Benchmark U.S. crude futures have risen 12 per cent this year to more than US$90.
"We are investing at a very prudent level consistent with our cash flows," Lawler said. "To go and invest and (produce) as much as we can is not how we generate the greatest value."
Article content
Bloomberg
---
1:20 p.m.
What happens if the U.S. government shuts down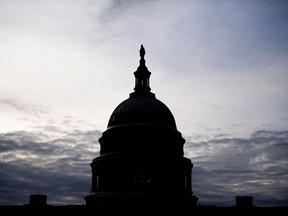 Longer lines at airports, shuttered national parks and delayed economic data — these are some of the potential impacts of a looming government shutdown in the United States.
Infighting among House Republicans is driving the government to the brink of a potentially protracted shutdown this weekend. Barring a breakthrough, federal funding will lapse at midnight on Sept. 30.
Many federal employees are likely to be furloughed, but some will be deemed "essential" and work without pay until the shutdown ends. The last major shutdown in 2018-2019 lasted 35 days.
The Office of Management and Budget has collected agency contingency plans that outline what happens in the event of a shutdown.
Here are some of services that would be affected:
Labour economic indicators, like the Bureau of Labor Statistics's monthly jobs report, could be delayed.
The Federal Mediation and Conciliation Service, charged with promoting labor-management cooperation, would have to cut back its work amid a strike by the United Auto Workers.
Federal Reserve activity would be unaffected, meaning the central bank could still raise interest rates at its next meeting Nov. 1.
The Securities & Exchange Commission wouldn't review or approve registrations from investment advisers, broker-dealers, transfer agents, rating organizations, investment companies and municipal advisors.
Travellers could face delays as air traffic controllers and Transportation Security Administration officers working without pay could lead to higher rates of no-shows, as happened in 2019.
Amtrak would keep transporting passengers.
Passports and visas would still be issued at consular offices worldwide, provided "there are sufficient fees to support operations."
Most national parks would likely be shuttered, turning away visitors and crippling businesses in the US$800-billion outdoor recreation economy.
Museums including the Smithsonian and National Gallery of Art could close in a protracted shutdown.
Cemeteries, monuments, and visitor centres worldwide housed under the American Battle Monuments Commission also would close.
Article content
Bloomberg
---
12 p.m.
Midday markets: TSX gets a lift, U.S. stocks mixed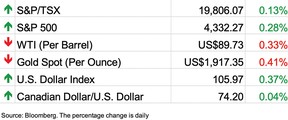 Strength in energy stocks helped Canada's main stock index move higher in early afternoon trading, while U.S. stock markets were mixed.
The S&P/TSX composite index was up 26.10 points at 19,806.07 at noon.
In New York, the Dow Jones industrial average was down 17 points at 33,946.84. The S&P 500 index was up 8.92 points at 4,328.98, while the Nasdaq composite was up 35.44 points at 13,247.25.
---
10:30 a.m.
Hollywood writers reach deal to end 5-month strike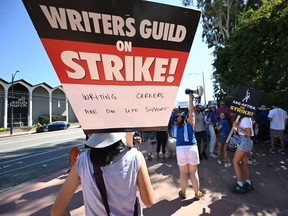 Striking Hollywood screenwriters reached a tentative new labour agreement with studios including Walt Disney Co. and Netflix Inc., settling one of two walkouts that have shut down film and TV production.
The Writers Guild of America, which represents more than 11,500 Hollywood scribes, said Sunday it reached the deal with the Alliance of Motion Picture & Television Producers, the studios' bargaining group. The agreement, if approved by the guild members, will end a strike that began on May 2.
The provisional three-year deal remains subject to the completion of contract language and recommendations from the union's council and board, which could come as soon as Tuesday. Members would vote after that, although the union leadership may give them permission to return to work before the final tally.
Article content
"We can say, with great pride, that this deal is exceptional – with meaningful gains and protections for writers in every sector of the membership," the guild said in a statement.
Details of the agreement won't be announced for a few days, however people familiar with the matter said earlier that writers gained concessions on key points, including higher wages. They also appear to have reached an agreement on the use of artificial intelligence, which writers feared could destroy jobs.
The Screen Actors Guild remain on strike with no deal yet.
Bloomberg
---
9:30 a.m.
Stock markets in North America are open: TSX, Wall Street inch lower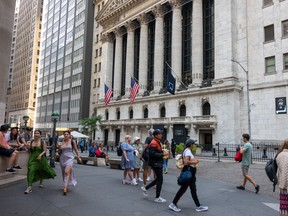 Stock markets in the U.S. and Canada opened in the red this morning, extending last week's rout.
In Canada, the S&P/TSX composite index was down 82.96 points, to 19,697.01 in early trading.
On Wall Street, the S&P 500 fell 13.89 points to 4,306.17, the Dow was down 77.32 points to 33,886.52 and the Nasdaq declined 58.71 points to 13,153.10.
---
9 a.m.
Air Canada buying 18 Boeing 787-10 Dreamliner planes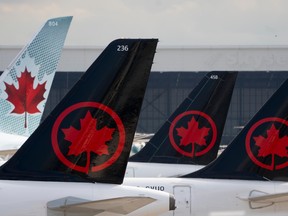 Air Canada says it has placed a firm order for 18 Boeing 787-10 Dreamliner aircraft that will be used to replace older, less efficient wide-body aircraft in its fleet.
Article content
The agreement also includes options for an additional 12 Boeing 787-10 aircraft.
The airline says it expects to start receiving the new aircraft in the fourth quarter of 2025 with the last one scheduled for delivery in the first quarter of 2027.
The order announced today substitutes an earlier deal for two Boeing 777 freighter aircraft.
Air Canada says the 787-10 is the largest model of the Dreamliner family and can carry more than 330 passengers depending on the seat configuration.
It also has 175 cubic meters of cargo volume.
The Canadian Press
---
8:30 a.m.
Recession risks keep building, David Rosenberg warns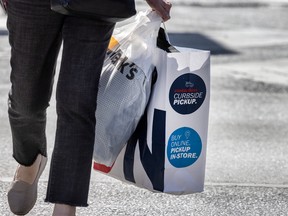 David Rosenberg, economist and founder of Rosenberg Research & Associates Inc., says retail sales data released by Statistics Canada on Friday provides even more evidence that we're headed for a recession.
Here's what he had to say in this morning's Breakfast with Dave newsletter:
"Retail sales in Canada came in light (0.3 per cent) in July against consensus (0.4 per cent), but it was all inflation (and then some). Adjusted for prices, retail sales volumes fell 0.1 per cent, down in each of the past three months and in five of the past six — during which they have sagged at a 3.1 per cent annual rate. The build-in for Q3 real retail sales is minus 1.2 per cent at an annual rate, but we know that Statistics Canada's estimate for August nominal sales shows minus 0.3 per cent at the same time that the consumer price index jumped 0.6 per cent, so when we factor that in, that 'build in' is closer to a minus three per cent annual rate. Remember, real gross domestic product in Q2 was minus 0.2 per cent at an annual rate, so we are building towards a recession here, my friends. Does the Bank of Canada care?"
Article content
---
8:15 a.m.
Aluminum giant Alcoa names new CEO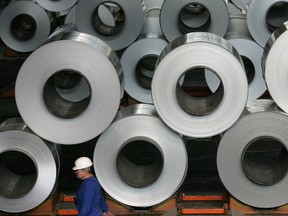 Alcoa Inc. named William Oplinger as chief executive, replacing Roy Harvey who has led the largest United States aluminum producer for almost seven years.
Alcoa said Oplinger, 56, who was previously chief operations officer, took over the role as of Sept. 24. Harvey, who has held the top job since 2016 when Alcoa split from Arconic, will serve as strategic adviser to the new CEO until the end of the year. The company said in a filing that Harvey will receive severance payments.
The change at Alcoa comes during a tumultuous time for the aluminum industry, as weak demand pressures prices and the fallout from Russia's invasion of Ukraine continues to dislocate markets.
A versatile and ubiquitous metal, aluminum is used in everything from cars to buildings and drinks cans. Prices have come under pressure this year as the global economy deals with inflation, a slowdown in the Chinese real estate market and uneven consumer demand.
Harvey has been one of the most vocal critics of the impact Russian aluminum is having on the market. While there are no blanket sanctions that affect trading in Russian aluminum, some buyers and traders have sought to avoid those supplies and the U.S. has announced a duty on imports.
Article content
Bloomberg
---
7:30 a.m.
Ford workers in Canada ratify agreement, set precedent for other automakers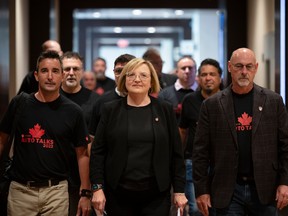 The union that represents 5,600 workers at Ford Motor Co. of Canada confirmed Sept. 24 its members had ratified a three-year contract with the automaker, setting the pattern for upcoming talks with General Motors Co. and Stellantis NV.
Unifor and Ford reached a tentative agreement Tuesday after extending a strike deadline by 24 hours. At the time, the union said the three-year deal addressed all issues raised by members for this round of bargaining.
On Sunday, the union said the wage increases amounted to the highest ever negotiated in bargaining with an automaker in Canada. In all, 54 per cent of union members who voted endorsed the proposed collective agreement, which includes a general wage increase of 15 per cent over three years.
Lana Payne, national president of Unifor, issued a statement saying the deal will mean tremendous gains for autoworkers.
"Your bargaining team pushed Ford of Canada on every front to deliver a contract that fundamentally transforms pension plans, provides protections during the (electric vehicle) transition and includes the highest wage increases in the history of Canadian auto bargaining," Payne said.
Article content
"We know this is a challenging time for all workers and this agreement tackles the affordability issues so many face today," Ford master bargaining chair John D'Agnolo said.
The contract calls for a wage increase of 10 per cent in the first year, two per cent in the second year and three per cent in the final year.
Meanwhile, the base rate for hourly wages will increase by 25 per cent for those with a skilled trade, the union said. The deal also includes a reactivated cost-of-living allowance, a $10,000 bonus, two new paid holidays and pension improvements.
That means a Ford worker with one year seniority will see their wages increase from $25.75 to $46.13 by the end of the three-year deal, which includes the cost-of-living allowance, the union said.
The Canadian Press
---
Stock markets: Before the opening bell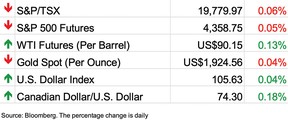 U.S. stock futures are trending lower as oil prices edge higher this morning, following Wall Street's worst week in six months.
On Friday, the S&P 500 slipped 0.2 per cent, while the Dow Jones industrial average was off 0.3 per cent. The Nasdaq composite dipped 0.1 per cent. The retreat has deepened with Wall Street's growing conviction that interest rates likely won't come down much any time soon.
Article content
In Canada, the S&P/TSX composite index also closed lower on Friday.
Globally, shares in Asia were mostly lower this morning, with Tokyo the only major regional market to advance.
---
What to watch today
Quebec Premier François Legault will welcome the premiers of the four Atlantic provinces (New Brunswick, Newfoundland and Labrador, Nova Scotia and Prince Edward Island) and governors of the six New England states (Connecticut, Maine, Massachusetts, New Hampshire, Rhode Island and Vermont) for the 44th conference of New England Governors and eastern Canadian Premiers.
Also on today is the 10th edition of the FinTech Canada forum, held in Montreal.
The Canadian Manufacturing Technology Show begins today in Toronto, and runs until Sept. 28.
Need a refresher on Friday's top headlines? Get caught up here.
Additional reporting by The Canadian Press, Associated Press and Bloomberg