Calgary-based geothermal company Eavor receives $90M from feds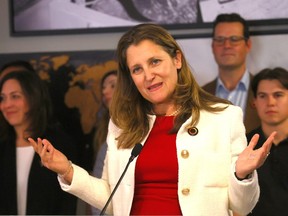 The funding will 'accelerate' the deployment of Eavor's technology that provides clean, baseload heat and power using a closed-loop geothermal system, Freeland said
Article content
A Calgary-based geothermal company is receiving $90 million from the federal government to help it scale its technologies at a commercial level.
Eavor Technologies Inc. is the first recipient of Canada Growth Fund (CGF) support, a $15-billion federal program created in 2022 with the intention of supporting low-carbon finance initiatives.
Article content
Deputy Prime Minister and federal Finance Minister Chrystia Freeland made the announcement Wednesday afternoon in downtown Calgary.
Article content
"Canada has to keep up. And we have to not just keep up, we have to be in the lead," Freeland said, referencing the CGF's priorities.
Eavor is building a commercial-scale geothermal development in Germany, which is expected to cost $290 million to complete. The development is expected to start producing energy next year and reach full capacity by 2026, Eavor CEO and co-founder John Redfern said earlier this summer.
Geothermal technology extracts heat by drilling deep into the earth's crust, and can be used as a clean source of heating, cooling and electricity.
The investment is a direct commitment of $90 million of Series B preferred equity in the company, funding that "will allow (Eavor) to scale up its business while retaining intellectual property and creating jobs in Canada," according to a news release on Wednesday.
Redfern said the company has been exploring starting geothermal projects in Alberta and other areas of Canada. He said it's actively looking at projects in Saskatchewan, Toronto and Vancouver.
"At the start, when you have limited funds, you pick the lowest-hanging fruit first. Some of the lowest-hanging fruit we found was in places like Germany," Redfern said Wednesday afternoon.
Article content
"Projects are coming to Western Canada, to Eastern Canada, that's just not one of the ones going right now. It is a priority."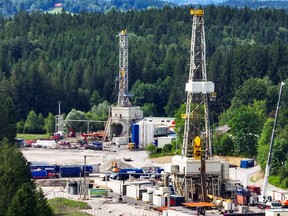 Funding to accelerate Eavor's technology
The funding will "accelerate" the deployment of Eavor's technology that provides clean, baseload heat and power using a closed-loop geothermal system, Freeland said.
She added that the investment will help maintain and support new permanent jobs in Alberta and keep the majority of Eavor's workforce in Canada.
Eavor announced in June the close of its Series B equity round, which raised about $80 million — including $50 million from OMV AG, an Austrian oil, gas and petrochemical company.
And on Wednesday afternoon, the company said it has successfully completed $182 million in financing. The equity round was once again led by OMV and includes the CGF funding contribution, along with participation of Japan Energy Fund, Monaco Asset Management and Microsoft's Climate Innovation Fund.
The company was also awarded in March $135 million in funding from the European Innovation Fund to support its Germany project.
Article content
The CGF — a response to the U.S.'s Inflation Reduction Act providing $369 billion in climate and energy spending — says it provides investments that mitigate the risks currently limiting private investment in emissions-reduction technologies.
Geothermal having 'a bit of a renaissance': U of C professor
Advances in drilling technology and widespread interest in low-carbon dispatchable energy sources have combined to create significant interest in creating commercial-scale geothermal projects, said Sara Hastings-Simon, director of the University of Calgary's master of science in sustainable energy development program.
For those reasons, interest in the technology has been having a "bit of a renaissance," Hastings-Simon said.
Geothermal makes for a strong addition to a renewable energy mix because of its dispatchability — meaning it can be programmed on demand according to a power grid's needs.
Article content
"If you're targeting 100 per cent renewables, then some of these dispatchable sources become more valuable," she said, adding it can be a "great partner to wind and solar."
Hastings-Simon said Alberta has in recent years clarified regulations around geothermal and is often mentioned by the government, which will help enable its development. Its inclusion in the province's pause on renewables, she added, may "send a different signal."
Alberta Environment Minister Rebecca Shulz, who was at Wednesday's announcement, said earlier this year that geothermal is an untapped resource in Alberta and that it's "definitely going to be one of our pieces moving forward as we look at our energy mix."
— With files from Chris Varcoe
X: @mattscace67